Parish Defibrillator Action Line – the defibrillator is now sited at East Anstey Primary School
01398-505565
Coronavirus
We now have a list of people who are willing to help anyone who needs practical support if they have to isolate themselves.
Rather than publish the full list and to avoid  any duplication we are asking that anyone who would like some help to call either;
John Griffin on     01398 341579
Dave Barber on    01398 341624 &  07836 201959
We will then get one of the volunteers to contact you directly.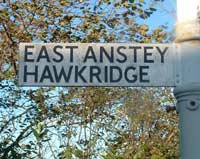 East Anstey Parish lies in the heart of beautiful unspoilt English countryside which has been designated as an area of 'Great Landscape Value' Located on Devon/Somerset boundary, the parish is within the South Molton Rural County Division of North Devon District Council. The adjacent Parish services are provided by Somerset County and West Somerset District Council.
The name 'Anstey' is derived from the Old English word 'an-stiga' meaning 'a hill pathway for one'; i.e. a narrow pathway. The name remains today because, like our older neighbouring village of West Anstey our village consists of houses dotted along the sides of a long narrow road. There are currently 225 people on the Electoral Roll in the Parish in some 95 households.
Within the Parish there is a school, East Anstey Primary School, and a church, St. Michael's Church. The Village Green, with a children's play area, is in the centre of the village. The national flag and village flag are flown on the flagpole here on appropriate occasions.
Click for Map